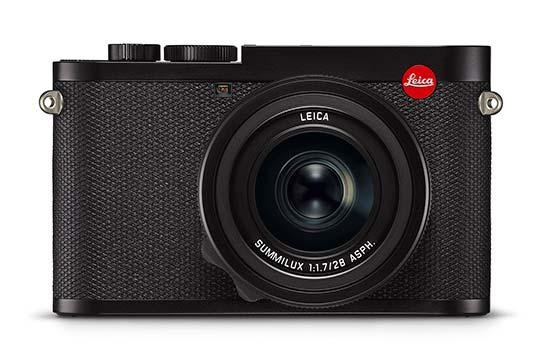 Introduction
The Leica Q2 is a fixed lens camera with a 47.3 megapixel, 35mm full-frame (24x36mm) CMOS sensor with no optical low pass filter and an image-stabilized Leica Summilux 28mm f/1.7 lens with 11 lenses in 9 groups (including 3 aspherical lens elements).
The Q2 can now record 4K UHD and Cine4K video at 30/24 fps in the MP4 format, with other new features including a 3.68 megapixel OLED EVF, sensitivity range of ISO 50-50,000, improved battery life by 30% compared to the original Q model, dust and moisture resistant weatherproofing, improved shutter release button, a new 75mm digital zoom function, a top flash sync speed of 1/2000 sec, and a top electronic shutter speed of 1/40,000 sec.
Other key features of the Leica Q2 include a touchscreen 3-inch LCD screen with 1,040,000 pixels and 100% field of view, auto-focus speed of less than 0.15 second, updated Leica Maestro series image processor, JPEG and DNG RAW file support, built-in wi-fi and bluetooth connectivity, a flash hot shoe, full range of advanced controls from manual exposure to manual focus, and a continuous shooting rate of 10 frames per second at the full 47.3 megapixel resolution with the mechanical shutter or 20fps with the electronic shutter.
The recommended retail price of the Leica Q2 is £4250 / $4995 in the UK and US respectively.
Ease of Use
Is the Leica Q2 the most over-specified/ over-qualified street, travel, and 'online influencer' targeted photography tool ever? Or, alternatively, is this well-made and well-featured camera the answer to many of our prayers?
Originally announced and reported on by Photography Blog back in March this year, at which point we were only able to provide a quick hands-on, the premium 47.3 megapixel, full frame Leica Q2 has finally landed on the PhotographyBlog test slab for a more detailed look.
Differences when compared to its 2015 predecessor in the plain old 'Q' include the fact that the Q2's magnesium construction body is now water and dust resistant for prolonged outdoor use, while Bluetooth connectivity has also been added to this second generation model. A further change is the use of an SL series lithium battery in a Q model – the BP-SC14 to be exact – which has helped up the amount of images that can be captured before it gives up the ghost.
This count has risen from the paltry 270 shots of the original 'Q' to a more respectable 350-shot showing for the Q2. OK, so that's still no match for a professional DSLR that could otherwise be bought for a similar price to that asked here – but the audience for the Q2 is going to be either looking for a smaller, back up camera to a DSLR, or a complete alternative to a DSLR anyway.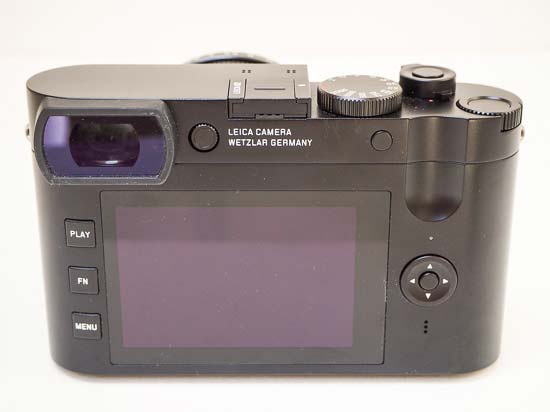 Rear of the Leica Q2
Hand-crafted in Germany and feeling built like the proverbial tank when held in the palm, without being at all cumbersome to operate or transport, inevitably the price tag reflects such precision engineering – reassuringly so to some, perhaps – at a manufacturer's suggested £4,250. In fact the camera is portable enough to be able to use it for shoot-from-the-hip photography – its size meaning that it won't be as 'threatening' to passers by and subjects as a full-blown DSLR and lens would be. That said, thanks to the fact that the optic is fixed here, it's still too big to slot into either a jacket or trouser pocket, so you might want to tape over the bright red Leica badge on the front if you're going for more of a 'stealth' shooting approach.
The look of the Leica Q2 is very much classic Leica, coupled with some modern minimalism. The top plate therefore presents a clean and straightforward layout, with a recessed command dial/thumbwheel, raised shutter speed dial and forward-placed shutter release button, encircled by an on/off power lever. Flick the latter and the Q2 powers up nigh instantly – so those used to shooting on premium mirrorless models or DSLRs will feel at home immediately in terms of the camera's responsiveness.
As mentioned, at the front of the Leica Q2 we have a fixed, as opposed to removable, lens. The 28mm focal length provided is all encompassing and makes this Leica particularly suitable for landscape and travelogue photography, while a straightforward and clearly marked macro setting on the lens barrel allows subjects as close as 17cm to be captured, while otherwise minimum focusing distance is a regular 30cm.
This is coupled with a bright/fast f/1.7 aperture, to allow for lower light shooting hand held. Because the lens is quite wide the user is naturally prompted to get quite close to their subjects if they want them to fill the frame, or the majority of it, to really make the most of the 'bokeh' opportunities offered by that maximum aperture. On portraits we do get a slightly barreling effect on facial features therefore, though it's hardly ugly. Incidentally, the manually selectable aperture range extends from f/1.7 up to f/16 with an automatic setting provided too.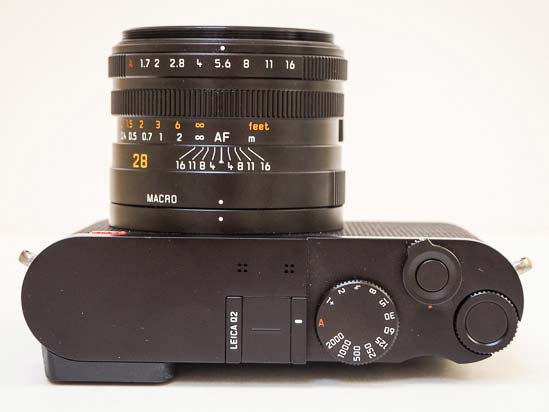 Top of the Leica Q2
There is no built-in flash provided with this camera, although there is a provided hotshoe for the addition of flash, should that be required. Leica has additionally provided a screw-on/screw off lens hood, should you wish to use it as an additional aid to preventing lens flare, or avoid unwanted artefacts in brighter conditions.
Incidentally, the lens and aperture provided here is the same as that of the 2015 'Q' – Leica hasn't chosen to throw the baby out of the bathwater and has retained what it says proved popular with regard to the original. What has been beefed up is the camera's AF response, with a speed of 0.15 seconds being pitched as 'super fast' by the manufacturer. Peace of mind is provided, if you don't quite trust what you are seeing, by a cross hair visible through the camera's eye level electronic viewfinder, or touch screen LCD below. This flashes in green upon auto focus being achieved, though is inevitably harder to see on the back screen in brighter conditions.
Leica may be pitching this as a full frame digital camera that's easy to use. However newcomers will require a period of familiarity, largely because this is a camera that rewards getting hands on, rather than just pointing and shooting. A case in point is the lens rings that control many of the camera's key settings, enabling precise adjustments on the fly.
Unsurprisingly the Leica Q2's focus can be controlled via said rings, though the means of switching between AF and MF is quite subtle and initially well hidden. In fact switching to manual focus occurs via a fingernail press of the so tiny you'll miss it lever on the lens itself, that in turn allows the lens ring to move (it's 'stuck' in place in auto mode) and manual distance markings on said barrel to be selected – whereby the camera provides the user with an enlarged portion of the subject on-screen, allowing focus to be more critically determined. Go on and squeeze the shutter release button and you'll be prompted to double check the image has actually been taken, as the shutter release on the Leica Q2 is so quiet you're not alerted to the fact that the picture is taken.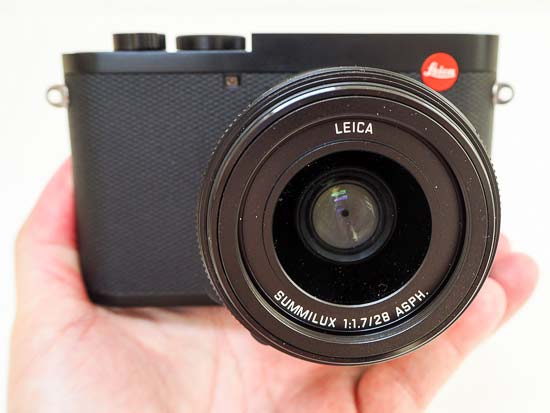 The Leica Q2 In-hand
While there's not much, if anything, by way of a grip provided on this camera, it doesn't feel like it will slip readily from your right hand. That's due both to the solid feeling weight of the unit itself and the fact that there is a smooth indentation on the back plate for your thumb to rest in. Coupled with this, the slightly roughened front plate design provides a degree of purchase for your forefingers and similarly prevents them from slipping around when you're shooting with the Q2. There was also a shoulder strap and carry case provided with our review sample, though we understand those are optional extras.
As we'd expect, when shooting on the Q2, images can be composed and reviewed via a choice of either the camera's EVF or backplate LCD, the latter of which provides a degree of touch screen control. The EVF has a push in/pop out diopter adjustment wheel for use by those who are perhaps using the camera's EVF when wearing spectacles. With a supplied resolution of a whopping 3.68 million dots, when using the EVF it's very easy to forget we're not actually using the optical alternative, so realistic is the image presented to our pupil. The alternative of the LCD is a standard 3-inches in size and offers a lower 1.04 million-dot resolution.
On this camera you can shoot in JPEG format or Leica DNG – aka Leica's own Raw files, that usefully can be opened in any regular image editor or image preview program. As one would expect, these can be either captured separately or – as we were shooting in the main – in tandem, with little if any noticeable slowdown.
Aside from stills, video resolution goes all the way up to 4K here, though there is not a dedicated video activation or record button provided on the camera that readily indicates how to access this mode. After a longer period of feeling our way around than we would have liked, we realised that hitting the unmarked central button in the midst of the four-way control pad on the camera back helpfully allowed us to move between stills and video capture instantly, as well as calling up a live histogram on-screen if so desired.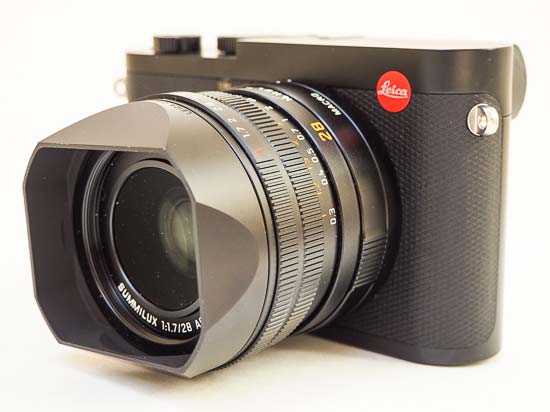 Front of the Leica Q2
It won't be surprising to learn that the Leica Q2 may not be the most intuitive to camera to use from the off, but you quickly get used to its quirks. For example, a flick of the lever next to the battery compartment on the camera's baseplate and the lithium ion rechargeable battery pops out – but not all the way.
Without a hard copy manual provided with our review sample, we first tried pinching this between forefinger and thumb to extract it fully, before realising that a fairly subtle additional press with the thumb, or finger, will release it fully. We say a 'subtle' press is required, because alternatively a slightly harder press will simply push the battery fully back into place, and then we're back to square one again.
Thankfully Leica has provided a standalone mains charger out of the box. That's just as well, as the Q2's sleekly minimalist design has extended to the fact that there are no ports for USB or HDMI connectivity provided on the camera's flanks, as we'd normally expect on any other digital camera. Back at the base of the unit, there is however a slide-open cover protecting a single SD card slot.
So that's how this solid feel camera handles – what about the images it delivers? Are they the gold standard for digital cameras, thereby making the Leica Q2 worth its premium price tag? Read on to find out…